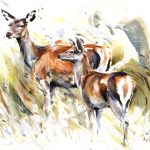 Born and raised just outside West Calder I was always fascinated by the flora and fauna of the surrounding countryside and farmland. I would spend hours exploring and observing everything from frog spawn to frost patterns and developed a deep interest in nature. This love of wildlife has always stayed with me and now forms the basis of almost all my artwork.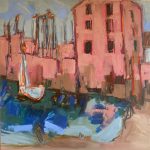 As a landscape artist my work is rooted in the investigation of an environment, with a focus on my reminiscence of place and space. I immerse myself in its character through initial sketchbook observations, then develop these influences into a series of studio based discoveries. Released from direct representation I am free to explore my remembered experience.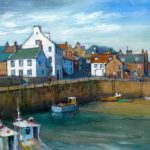 Born in Coventry, Jan studied Fine Art at Coventry College of Art at Durham University. She taught in the south including a part time lectureship at the then West of England College of Art, Bristol. Jan set up her own business doing varied commissions. Work included murals in churches, pubs and schools and a contract for Courage Breweries for pictorial pub signs while continuing to paint for private collectors. Jan moved to Scotland in 1973 and began working seriously as a painter, highly motivated by the Scottish landscape. Jan moved around Scotland, with her husband John, also a painter, choosing to live in some fairly remote places, including Wester Ross, Braemar, Isle of Mull and by the Crinan Canal. She absorbs the atmosphere and beauty of each place in a unique style, using soft and delicate tones, which manage to depict the dramatic landscape of Scotland. From 2000 until the Summer of 2021 they ran a very popular gallery in Pittenweem. The gallery has retired as they moved to nearby Cupar. Original painting and prints are still shown year round at the Weem Gallery opposite to their former gallery in the High Street.